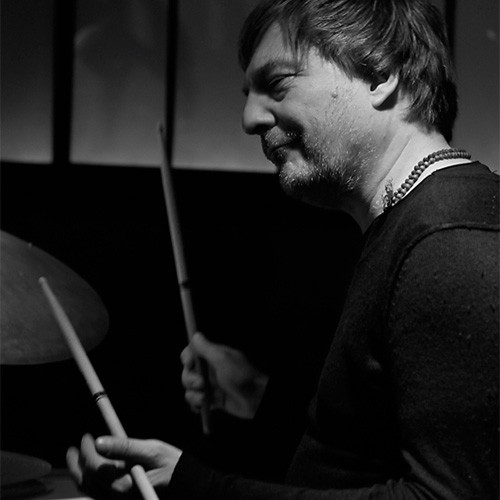 © Olivier Lestoquoit
Dré Pallemaerts
Instruments : Drums
Date of birth : 14/07/1964 - Anvers
Dré PALLEMAERTS
started playing dance music with his brother Jacky Pallemaerts when he was 10 and got into Jazz at the age of 14.
In '75, he starts studying music at the Academy in Antwerp.
At 17, he meets American bassist John CLAYTON, known for his collaboration with Monty ALEXANDER. John CLAYTON brings Dr&eacute in contact with drummer Jeff HAMILTON, who invites him to study with him in in Los Angeles, '84.
In '85, Dré appears at the Singapore Jazz Festival, sent by the Belgian Ministry of Culture. Back in Belgium, Dré rapidly integrates the local scene, playing with the best Belgian jazzmen : Steve HOUBEN, Jacques PELZER, Michel HERR, Bert JORIS, Charles LOOS and others...
Dutch pianist Jack VAN POLL hires him for his trio with bassist Hein VAN DE GEYN. The trio accompanies several soloists such as Arnett COBB, Spike ROBINSON, Dave PIKE, and several American singers, such as Etta CAMERON, Deborah BROWN and Dee Dee BRIDGEWATER.
With singer Dee DANIELS, he tours throughout Europe, Africa and the US, where he stays for a while in Seattle, and works with singer Ernestine ANDERSON, pianist James WILLIAMS and trumpeter Art FARMER.
With pianist Michel HERR and bassist Hein VAN DE GEYN, he accompanies several soloists : Slide HAMPTON, Wolfgang ENGSTFELD, John RUOCCO. With HERR, VAN DE GEYN and trumpet player Bert JORIS, he tours and records with US saxophonist Joe LOVANO.
In 88, he stays during 8 months in New York, playing a.o. with Judy NIEMACK, John CAMPBELL, Fred HERSCH, David KIKOSKI etc.
Back in Belgium, he joins guitarist Philip CATHERINE's Trio during 3 years, with Hein VAN DE GEYN, and tours throughout Europe, Asia and Africa. He also tours and records with French guitarist Serge LAZAREVITCH.
In '91, he receives the Prize of "Youth and Music Flanders"
He was a member of the Bob BROOKMEYER Quartet (1 awarded CD), Toon ROOS Quartet, Kurt VAN HERCK Quartet, Kris DEFOORT Trio, Erwin VANN Trio & Quartet, WORLDS, MOTHER, the BRUSSELS JAZZ ORCHESTRA, Michel HERR Trio, European Quintet, MÄÄK's SPIRIT, the Frank VAGANÉE Trio etc...
One of Belgium's most active drummers, he appeared with many soloists, such as Toots THIELEMANS, Junior COOK, Teddy EDWARDS, Mal WALDRON, Norma WINSTONE, Red HOLLOWAY, Archie SHEPP, John SCOFIELD, Tom HARRELL, Steve GROSSMAN, Mark TURNER, Kenny WERNER, Kenny WHEELER, Chris POTTER......
In '98, he participated in the recording of the Bert JORIS soundtrack for the movie "Bal Masqué" (Julien VREEBOS), available on CD.
Dré PALLEMAERTS also played with the trio of US pianist Bill CARROTHERS. He appears on the cds "Swing Sing Songs" and "I love Paris" (Pirouet records).
Is working on a electronic music project under the name DP. Collaborates with the band Octurn.
Recording and touring with Bill Carrothers 3 and playing regulary with Toots Thielemans.
Working with several French musicians like Frank Amsallem, Stéphane Belmondo, Alex Tassel, Franck Avitabile, Baptiste Trottignon, Bert Joris, Laika Fatien, etc ...
Current main projects : DP, Michel Herr 5, Bert Joris 4, Christophe Erbstoesser 3, Frank Vaganee Hopper Project, Andy Sherrer 4, Bill Carrothers 3, Frank Avitabile 3, Frank Amsallem 3 , Alex Tassel 5, Erwin Vann 4, Jeroen van Vliet 3, Ack Van Rooyen - Paul Heller 5, etc…
He received in 2007 the Klara Prize (jazz) for his album "Pan harmonie".
He teaches at the Conservatoire National Supérieur de Musique of Paris (F) and at the Lemmens Instituut in Leuven (B).
Belgian Django d'or 2008.
ADDITIONAL DISCOGRAPHY
(See top of page for main discography)
Three-oh in One" Jack Van Poll
"Sweet Seventina" Bert Joris (Jazzcats)
"Oscar" Philip Catherine (Igloo)
"Touch of Colour" Tars Lootens (T-T Prod.)
"London Baby" Serge Lazarevitch (Igloo)
"Heart of the Matter" Hogendijk-Van den Dungen (Timeless)
"Till next Time" Ben Sluijs (September)
" Moon to your Sun" David Linx (Crepuscule)
"Make Someone Happy" Mary Kay-Toots Thielemans (Gam)
"If one more day" Diederik Wissels-David Linx (Crepuscule)
"No wall, No war" Charles Loos (B-Sharp)
"Walk with a Lion" Serge Lazarevitch (Igloo)
"Claire Foster sings Wayne Shorter" (Boudisque)
"The human feel" Toon Roos (September)
"I love Paris" Bill Carrothers (Pirouet records)
"Candies" Murat Öztürk
"Belmondo brothers" (F), featuring Yusef Lateef "Influence" (B Flat Recordings 6097115).
"A week in Paris" Franck Amsallem
"Fool time" Baptiste Trottignon / David El Malek (Naive NV 811311)