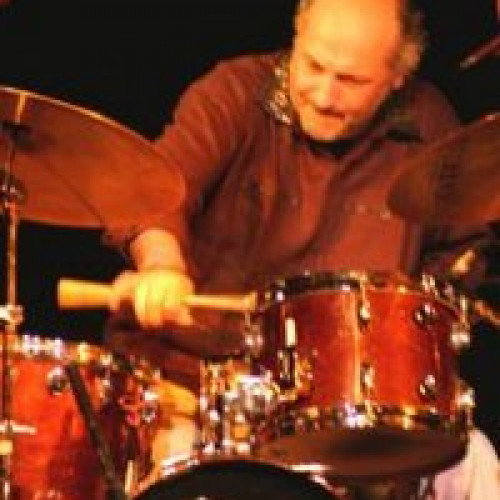 It is nearly for twenty years that the drummer
Antoine CIRRI
is inscribed in golden letters in the local history. As a matter of fact, he is co-responsible for the relaunching of jazz in Liège since 1976, when he was part of the group "
FOUR
". Since then, constantly and discretely present, he animated a quantity of sessions with his fine drumming, attentive and full of swing.
After a start in rock, it is due to trumpet player Milou STRUVAY that he joins the world of the syncopation and becomes one of the finest jazzman of the vintage years of Jacques PELZER, Robert JEANNE, Jean LINSMAN, etc. in Belgium, and Ron WILSON, Lou MACCONNELL abroad.
At the same time he embarks on the study of classical percussion at the Académie de Chénée, thereafter he joins the "classe d'improvisation" at the Conservatoire de Liège and attends lessons with Steve LACY, Butch MORRIS and Karl BERGER.
He also attended workshops with Joe LOVANO and drummer Aldo ROMANO.
Later on, he diversifies his experiences. Where modern music is concerned, he collaborates with Henri POUSSEUR and accompanies the Dance Company Irène K.
On the pop music scene, he works with Philippe ANCIAUX, Joseph REINHARDT, Nicole CROISILLE and William SCHELLER (1987).
In the "troisième courant" ("third stream"), he plays with HELIOTROPE BIG BANG in 1994.
Finally, it is in the jazz field that he came out most active, in the sessions of "La Péniche" during the eighties, with American trumpet player Jon EARDLEY, his quintet BELOLITA, his collaboration with Richard ROUSSELET, Michel HERR, Pierre VAIANA, Pirly ZURTRASSEN, Steve HOUBEN, Phil ABRAHAM, BIG BAND EVASION and American guitarists John THOMAS and Al DEFINO.
In 1994, he joins the group TAKE IT EASY.
Currently, he leads a new group DREAM TEAM with young recruits and an original program (Bill FRISELL, Jack DE JOHNETTE, Frank ZAPPA, Pirly ZURTRASSEN, etc.).
In '97 he joined the Véronique Bizet / Michel Mainil quartet.
In the recent years Antoine is very active in theater & dance music, with pirly ZURSTRASSEN) , and singers such as William Sheller.
concerts of contemporary music with Henri Pousseur, improvised music with : Garrett List, Barre Phillips, Maggie Nnichols, Jim Denley, Noah Howard, Daunik Lazro, ao...
Project leader (with Michel Herr, Jean-Louis Rassinfosse, Jacques Pirotton...), and currently member of trio Aja (with Alain Pierre & Olivier Stallon), concert in Nigeria Novembre 2003. Teaching at l'Académie d'été de Neufchateau et Libramont, workshops in France, Switzerland and Congo…
Co-founder with Pierre Vaiana of the show "sonastorie" with : Mimi Verderame, Adrien Verderame, Patricia d'Antona - a Sicilian story teller , and Marina Pittau - traditinal singer from Sarde...
concerts en décembre 2003.
Regular drummer of several ensembles, like : "jazz migrators" and the 4tet of Michel Mainil.
ADDITIONAL SELECTED DISCOGRAPHY
(see top of page for main recent discography)

LP :
PHILIPPE CHAPELLE VAGUE PRÉSAGE 1979
PHILIPPE ANCIAUX JULIE 1980
ALBERT WASTIAUX MAYDANCE 1983
GUY HARMEL TERRE 1984
KRIS DEFOORT DIVA SMILES 1985
HENRI POUSSEUR LA ROSE DES VOIX 1985
PHILIPPE ANCIAUX COQUIN CAFART 1986
CD :
PIERRE VAIANA EL DORADO 1988
HÉLIOTROPE QUARTET 1989
HÉLIOTROPE BIG BANG 1994
STARDUST ORCHESTRA 1994
ÉVASION BIG BAND 1994
CHRISTIANE STÉFANSKI CARNETS DE ROUTE 1994
TAKE IT EASY 1994
BLUE GINKGO SOLFERINO 1996
BORYS CHOLEWKA MUA 1997
ANDRÉ DELBECQ DES MOTS DÉGOUPILLÉS 1998
VÉRONIQUE ROBA AUDACE 1999
MAC RAHL RETROUVAILLES 2000
INDIGO BRAND 2001