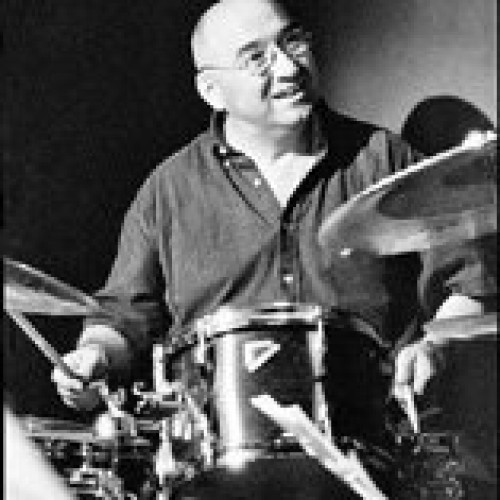 © Jos L. Knaepen
Born in Châtelet (Belgium) of Italian parents,
Bruno CASTELLUCCI
, a self-taught musician, started playing the drums at age 14 and rapidly imposed himself as one of the most complete drummers of Europe.
He is active as well in the studios as on stage and has assimilated a large variety of styles.
He has accompanied famous singers, he was the drummer of the 87 Eurovision Song Contest, and most of all, he is a remarkable jazz and fusion drummer.
1962: Wins the first prize for drums at the Adolphe Sax jazz festival in Dinant.
Performed alongside the greatest names of Belgian, and world jazz of that time, such as René THOMAS, Bobby JASPAR, Jacques PELZER and Francy BOLAND.
1963: Joins the Alex SCORIER Jazz Quintet. Plays with Slide HAMPTON, Art FARMER, Johnny GRIFFIN, Benny CARTER, Joe PASS, Phil WOODS, Niels H.0. PEDERSEN, George COLEMAN, Ian AKKERMAN, Clark TERRY,Philip CATHERINE, Tom SCOTT, Bobby McFERRIN, Jaco PASTORIUS, Airto MOREIRA, Lee KONITZ, Joe ZAWINUL, Walter NORRIS, Jiggs WIGHAM, Ferdinand POVEL, Tete MONTOLIU, Palle MIKKELBORG...
1970 onwards recording sessions in the studios in Belgium, The Netherlands, Italy, United Kingdom, France, Germany, Switzerland.
Recordings took place with the above mentioned as well as with Freddie HUBBARD, Chet BAKER, Don MENZA, Tony SCOTT, Ack VAN ROOYEN, Judy NIEMACK, Tom HARRELL, etc...
1974 - 1980: Member of BRT (Flemish radio) Jazz Orchestra.
Since 1974 he is associated with Toots THIELEMANS with whom he gave numerous concerts and participated in several recordings.
1976: Represents Belgium as soloist at the Jazz Festival of Pori, Finland.
1977: Represents Belgium as a soloist at the festival of Lublijana, Yugoslavia.
1978: Soloist for the Nordring in Belgium.
Between 1977 to 1979 he is member of the Ian AKKERMAN Band.
1980 onwards, he also is the drummer or one of Europe's best big bands, the Peter HERBOLZHEIMER RHYTHM COMBINATION and BRASS, an international Germany-based band with which he recorded several albums and appeared very often on TV.
He also played with the Bob MINTZER Big Band and the Count BASIE Orchestra.!
Finally, he leads his own bands : in the eighties, a quartet with Peter TIEHUIS, Michel HERR and Michel HATZIGEORGIOU (CD "Bim Bim"), and more recently, the Bruno CASTELLUCCI's STRINGTET (CD "Towards the light"), a jazz quartet with a string quartet, and now a quintet (CD "Lost and Found") with British and German musicians (Uli BECKERHOFF, Stan SULZMAN, John TAYLOR, Dieter ILG).
Recently, he also played and recorded a.o. with Eric LEGNINI, Judy NIEMACK, Richard GALLIANO, Ivan PADUART, Philip CATHERINE, Joachim KÜHN, Anne DUCROS with Gordon BECK, Heinz VON HERMANN Quintet etc...

Bruno CASTELLUCCI teaches, since 1988, at the Brussels Conservatory.
He also taught, 1985 - 1988, at the Rotterdam Conservatory.
Since 1986 he also teaches at the Brussels Music Academy.
On top of his regular teaching jobs, he also gave workshops in France, Germany, The Netherlands, Austria and Switzerland.

Bruno appeared on television and his concerts were broadcasted in Belgium, The Netherlands, Germany, France, United Kingdom, Norway, Sweden, Italy, Denmark, Austria, Switzerland, Spain, Portugal, Morocco, Tunisia, Zaïre, Greece, Turkey, Lebanon, Poland, Czech Republic, Japan, Canada, U.S.A. ...
His discography is huge, and he recorded numerous albums with many jazz greats.