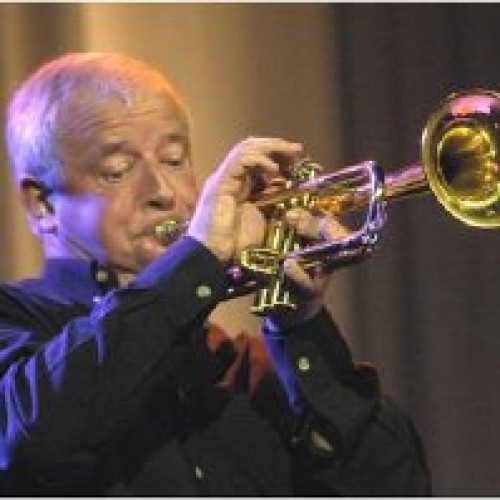 © Jacques Joris
Self taught, Richard ROUSSELET discovers jazz at the age of 15.
On the Belgian scene, he plays with numerous bands and wins a number of prizes as soloist:
1963, Prix Django REINHARDT,
1964, Prix de la maison de la Radio (LAUSANNE)
1969, participates in Festival de MONTREUX and plays with the International Festival Big Band, led by Clark TERRY and Ernie WILKINS.
He worked, for a long period, with pianist/composer Marc MOULIN in his various bands: PLACEBO, SAM SUFFY and more recently, PICNIC.
With PLACEBO, he wins, at the Festival of MONTREUX in 1971, the prize for best horn playing soloist, awarded by the International Press.
Thereafter, he is associated with pianist/composer Michel HERR, a.o. in SOLIS LACUS.
When the occasion presents itself, he plays with American soloists, who pass through Belgium : Hal SINGER, Benny BAILEY, Pepper ADAMS, Cecil PAYNE, Lou BENNETT, Ernie WILKINS, Johnny GRIFFIN, Al and Stella LEVITT, ...
Highly appreciated soloist, Richard ROUSSELET is member of ACT Big Band, the group LILITH, group SAX NO END of Jean WARLAND, in the old style band SWEET SUBSTITUTES with Charles LOOS, the group JAZZPIRINE assembled by Phil ABRAHAM.
He also worked with the Flemish radio (BRT) Big Band.
He appears, as leader, in a quartet as well as in quintet with guitarist Jean-François PRINS (1 CD).
He also created in '98 the , a band which pays a tribute to the music of Horace SILVER.
In '99, 100th aniversary of Duke ELLINGTON, he played in Jean WARLAND's A TRAIN Sextet.
Since January 1989, he leads the jazz big band " WEST MUSIC CLUB".
Appreciated teacher, he gives classes in numerous seminars.
Since October 1988, he teaches at the Brussels Royal Conservatory (retiring in June 2005).
He can be heard in some twenty albums.
In July 1994, the "Commission du patrimoine" awarded him with the DARCHE FRERES prize, which is given to a musician "who has devoted a life time, with honour and devotion, to the service of musical art".
ADDITIONAL DISCOGRAPHY
(See top of page for main discography)
| | | |
| --- | --- | --- |
| PLACEBO | "Ball Of Eyes" | (71) (CBS 64625) |
| Belgian Big Band | | (72) (Alpha 7008) |
| PLACEBO 73 | | (73) (CBS 65683) |
| PLACEBO | | (74) (Harvest C 064 95378) |
| Marc MOULIN | Placebo Sessions 1971-1974 | (71-74 reissued on CD, 99) (Counterpoint CD CRCD005 '99 |
| SAM'SUFFY | | (74) (CBS 80753, reissued) |
| SOLIS LACUS | | (75) (EMI-IBC 4 C 062 96949) |
| Christine SCHALLER et ACT 12 BIG BAND | (80) "Real Life" | |
| ACT BIG BAND | | (81) (LDH 1002) |
| Bob PORTER | "Meetin' You" | (83) (B. Sharp 1002 |
| Paolo RADONI | "Hotel Love" | (83) (LDH 1005) |
| Jean-Pierre GEBLER and Friends< | | (83) (LDH 1006) |
| Christine SCHALLER | "Peter Zee Cat" | (84) |
| Richard ROUSSELET Quintet | "No Maybe" | (85) (LP JAZZ CATS 6985 011) |
| Claudine SIMON | "Lilith" | (86) (Igloo 041) |
| Marc MOULIN | "Picnic" | (86) A 277 |
| Robert CORDIER Ensemble | "Magic Moods In A Mellow Tone" | (86) (Igloo 049) |
| Claudine SIMON | "Lilith" Eclaircies | (91) (CD Igloo Igl 086) |
| West Music Club (as conductor) | "25th" | (92) WMC 9201 |
| SOLIS LACUS (reissue) | | (B. Sharp CDS 082) |
| West Music Club (as conductor) | "Mosaique" | (95) (WMC 9502) |
| Richard ROUSSELET quintet (reissued 95 + CD bonus tracks) | "No Maybe ...!" | (B. Sharp CDS 102) |
| Bob PORTER | "Meeting You" (reissued 95) | (B. Sharp CDS 103) |