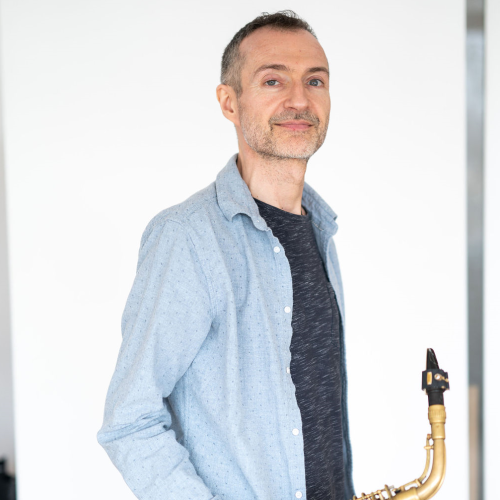 © Frédéric Raevens
After studying at Berklee College of Music in the 90s, Belgian saxophonist Stéphane Mercier moves to New York for seven years where he developed his career and signed for one of the most important indie jazz label: Fresh Sound/New Talent. His album, Flor de Luna, was recorded in 2000 and distributed worldwide. There, he plays with Mark Turner, Seamus Blake, Avishai Cohen, Matt Penman, Aaron Goldberg,…
He then moves to Paris before returning to Belgium, always performing internationally with groups ranging from intimist duos to big bands.
Subsequently, he travels around the world as an ambassador for the celebration of the 200 years of Adolphe Sax, the Belgian creator of the saxophone, in countries such as Hungary, the United States, Qatar, Kazhakstan,...
He also took charge of the Jazz Station Big Band, the house band of the famous Brussels Jazz Station club.
His last jazz albums were released on the Igloo and Hypnote Records labels.
Current international collaborations are: Quantum Stereo (UK, with Darren Beckett, Jason Rebello, Stella Angelika, ...), B. Konexion (US, with Napoleon Da Legend, Nejma Nefertiti, ...), BZSounds (US, with Ben Zwerin, Benny Benack III, Lionel Loueke…), Marylène Corro, Christian Brenner Quartet and the Damon Brown & Stéphane Mercier Quintet (UK).