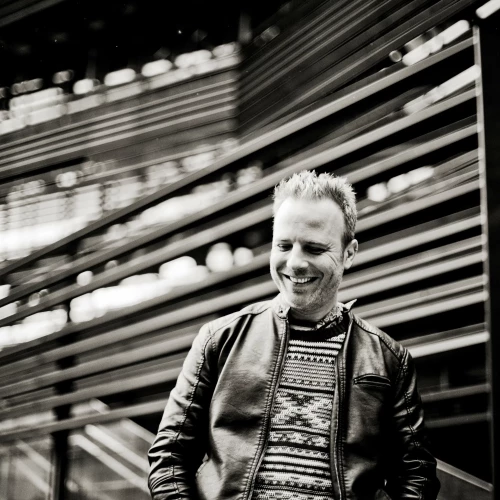 Teun Verbruggen
Instruments : Drums
Date of birth : 10/04/1975 - Brasschaat
Teun Verbruggen
took percussion on the music academy of Brasschaat with Luc Goos and graduated in 1999 as 'Master in Music/jazz' on the conservatory of Brussels with Hans Van Oosterhout. He took lessons with Dré Pallemaerts and John Engels.
He won the international contest of Hoeilaert (1999) and Tremplin Jazzcontest (2001) with Finnish Pianoplayer Alexi Tuomarila. With The Pascal Schumacher 4tet (Luxemburg) they won The Tremplincontest in 2003.
Played and plays in diverse projects and bands such as:
- Alexi Tuomarila 4tet (toured All Scandinavia, Australia, Spain, Greece, France, Germany,...);
- Jef Neve trio (the trio features sometimes Paolo Fresu), Molo-trio (Marocco, Tunesia, Cyprus,...),
- Pascal Schumacher Quartet - Jambangle - FES (Flat Earth Society) and Karanova (Hilmar Jensson, Johann Johannsson, Mauro Pawlowski,...) with belgian composer Peter Vermeersch. FES featured Uri Cain and is working with Mike Patton's Fantomâs.
- Haarmen Fraanje trio - Bruno Vansina trio - The VVG trio featuring Bruno Vansina and Gulli Gudmundsson (Iceland) with their own recordlable RAT
- One of his new projects is Rakham, a eclectic jazz, western, postrock, trash-en many otherthings band with as a leader Toine Thys.
His own band Futhark (featuring Jozef Dumoulin, Gulli Gudmundsson, Tobias Klein and Raphael Vanoli) will do his premiere in Gand april 2005.
His own trio featuring Mauro Pawlowski (dEUS) and Jozef Dumoulin is playing on Jazzmiddelheim 2005.
A own project featuring Hilmar Jensson (Alas No Axis), Trevor Dunn (Electric Masada) will take place january 2006.
Played as a sideman with Bert Joris, Cesarius Godzina, Bart De Nolf, Eric Vloeimans, Anton Goudsmidt, Mats Eilertsen, Giovanni Mirrabassi, Jean Philippe Viret, Edouard Ferlet, Harmen Fraanje, Steve Houben, Jozef Dumoulin, Jacques Pirotton, Kris Defoort, Frank Vaganée, Erwin Vann, Diederik Wissels, Jeroen Van Herzeele, Kevin Armstrong, Arif Durvesh, Laurent Blondiau, Martin Jakonowski, etc.
He recorded with the following bands:
Alexi Tuomarila Quartet, F.E.S., Peter Jones, Jef Neve trio, Kevin Armstrong (Iggy Pop), Arif Duirvesch (Knitting Shawny), Lithon...
Selected disco:
(See top of page for main discography)
- Alexi Tuomarila: Voices of Pohjola, O2
- Fes: Armstrong Mutations
- Jef Neve: Blue Saga, It's Gone
- Pascal Schumacher: change of the moon
- Jambangle: Trinity Song
- 4: Submarine
- VVG trio: Trio Music

"...Jef Neve reaches with his trio the real jazzessentials, namely the expression of the inner force wich is the engine for interactivity; shortly, shared passion, good for pure music."
J. Samyn - Stage Magazine
In 2006, he introduce his "Teun Verbruggen's Nozzle Slag" band, with Trevor Dunn (b), Hilmar Jensson (gt) and Jozef Dumoulin (kb).
He founded the label Rat Records.
Jazzmozaïek Award 2013.