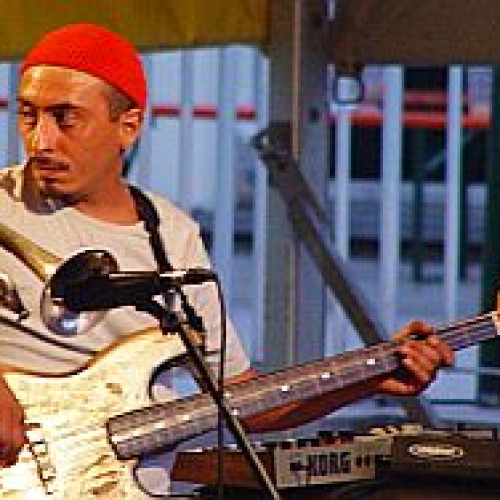 © Philippe Baron
Daniel ROMEO starts playing the guitar at the age of 10 and forms right away a band with a drummer and a guitar player of the same age, and his brother Pep ROMEO on the bass.
It is Pep who makes him discover Miles DAVIS, John COLTRANE and many more.
Soon he discovers Jaco PASTORIUS, Mark KING and Marcus MILLER, and his fascination towards the electric bass makes him switch to that instrument, which he'll never leave.
At the age of 14, Daniel ROMEO gets to know pianist Eric LEGNINI and drummer Stéphane GALLAND, both about the same age, and they form a trio named SKYLINE. From that point, Daniel ROMEO gets involved in a career as a sideman and meets Nicolas FISZMAN, whom he will replace in Viktor LAZLO's band. Nicolas tunes him to the basics of the profession in the field of pop music. He will then accompany Axelle RED, Kadja NIN, Liane FOLY, etc...
Besides that, Daniel ROMEO keeps playing on the jazz club scene, with musicians such as : Erwin VANN, Bruno CASTELLUCCI, Dr&eacute PALLEMAERTS, Kurt VAN HERCK, Bert JORIS, Michel BISCEGLIA, Eric LEGNINI etc...
With saxophonist Frank DERUYTER, he forms a funk band. This common passion will last for 7 years.
Then Eric LEGNINI calls him to come to Paris. He will join the band ELECTRIC SIX , with Eric LEGNINI, Stefano DI BATISTA, Flavio BOLTRO, Jean-Pierre TAIEB and Paco SERY, the drummer of Joe ZAWINUL Syndicate.
Paco SERY then introduces Daniel ROMEO to the French organ player Eddy LOUISS, who hires him to play many concerts.
Following that, Daniel has the opportunity to play with Louis WINSBERG, Jean-Pierre COMO, Stéphane HUCHARD, Mino CINELU, Rick MARGITZA, Nick MORROC, Fred WESLEY, Kelvin BELL, DJ CAM etc...
Daniel ROMEO has recorded an album titled "ive at Sounds" (March '98)
with Bert GIELEN [organ], Kurt VAN HERCK [sax], Patrick DORCEAN [drs], Jan NIHOUL [vibraphone], Martijn VAN AGT [guitar] and Eric LEGNINI [rhodes,kb].
In 2001, he records an album with DJ CAM (Soulshine) with guests such as Larry BLACKMONT, (Cameo), GURU (Jazzmataz), CHINA etc.
In March 2002, he records another solo album still unreleased, featuring prestigious guests like Flavio BOLTRO (tp), Rosario GIULIANI (alto sax), Mike STERN (gt), Onika HENDERSON, Sabine KABONGO (vocals), Alexandre TASSEL (tp), Eric LEGNINI, Guillaume NATUREL, string arrangements by Michel HERR etc...
Besides, Daniel continues to record with numerous pop artists, to participate in many festivals (Nice, Montreux jazz festival and many others) and to regularly perform in jazz clubs (Chat noir in Geneva, Sunset &t New Morning in Paris, Athanor studio, Sounds (Brussels) etc...
In November 2017, he releases the album "The black says sessions' (2 LPs + Cd) recorded as a leader with numerous musicians and guests.