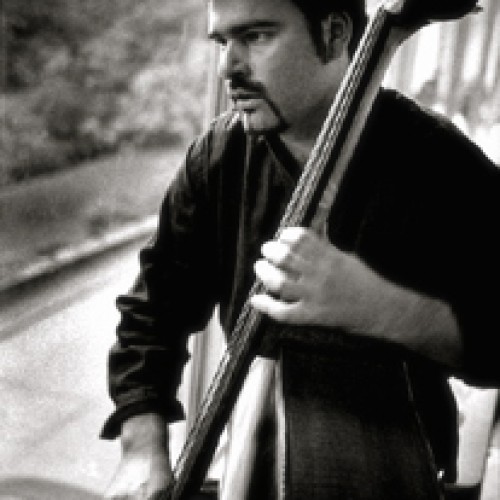 © Jacky Lepage
Sam GERTSMANS
was born in Liège in 1978, in a family of musicians. His father is an active classical violinist. He starts learning the violin at the age of 6. At the age of 8, he switches to the trumpet.
It is at the age of 17 that he picks up the bass (the electric bass) to play in a group of French "chanson".
In 1997, he studies at the Jazz Studio, then joins the jazz department of the Brussels Conservatory, where bassist Michel HATZIGEORGIOU is his teacher.
It is only in September 2000 that he picks up the double bass, with Jean-Louis RASSINFOSSE as a teacher.
He subsequently draws attention from different teachers and musicians, and starts playing on the jazz scene with well known players.
He played with the band BCBG, a band with some of the best alumni from the Belgian Music Conservatories led by Phil ABRAHAM (tb), with a.o. Nicolas KUMMERT (sax) and Pascal MOHY (p).
He played with the band Steve HOUBEN / Jacques PIROTTON Inc. aka as PHINC, with also drummer Stephan POUGIN. He appeared with that band a.o. at the Liège Festival 2002 and on their CD.
In October 2002, he plays at the Ciney Jazz Night in a Tribute to Chet BAKER with Steve HOUBEN (sax, fl), Gregory HOUBEN (tp), Jacques PIROTTON (gt) and Micheline PELZER (drs).
Sam GERTSMANS played in several bands : the Pascal MOHY Quartet with Quentin LIEGOIS (gt), the Gregory HOUBEN Quartet, the Yves GOURMEUR Quartet, Sylvain LUC Quartet, Phil ABRAHAM Trio, Michel HERR & LIFE LINES (nonet), Chrystel WAUTHIER trio, Fred DELPLANCQ Quartet, the Phil ABRAHAM trio & quartet etc.
In October 2002, he appears at the Brussels "Théâtre de Poche" in a play by Joseph Moncure MARCH titled "The Wild Party", in which he is a member of a quartet led by Gregory HOUBEN.
Other well known Belgian jazzmen he recently played with are Richard ROUSSELET (tp), Gino LATTUCA (tp), Kurt VAN HERCK (sax), Michel HERR (p), Fabrice ALLEMAN (sax, cl), Jan DE HAAS (drs), Xavier ROGÉ (drs), Manu HERMIA (sax) etc....
He also played with Ivan PADUART and US saxophonist Rick MARGITZA.